Exciting Opportunity at Join Sattva Team: Open Positions for Accountants and Analysts Position Now Available. Bachelor's degree in Commerce Candidates can apply here .
Table of Contents
The complete details of this jobs are as follows :
Company – Sattva
Role – Accountant/Analyst
Qualification – Bachelor's degree in Commerce
Experience –0-2
Location –Bangalore/Gurgaon/Mumbai
Salary – 4 Lpa – 8 Lpa
ABOUT COMPANY
SATTVA is a social impact consulting firm based in Bangalore, India. The company was founded in 2009 and is dedicated to driving sustainable development and social transformation. SATTVA works with a wide range of stakeholders, including corporations, governments, nonprofits, and philanthropic organizations, to address social and environmental challenges.
The company offers a range of services to its clients, including strategic consulting, research and insights, program design and implementation, impact assessment, and capacity building. SATTVA focuses on various sectors such as education, healthcare, livelihoods, environment, and sustainability.
SATTVA's approach is grounded in data-driven insights and research to inform their strategies and solutions. They collaborate closely with their clients to develop innovative and effective interventions that create positive social impact. SATTVA also places a strong emphasis on monitoring and evaluating the outcomes and impacts of their projects to ensure accountability and learning.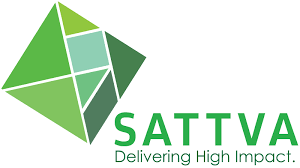 What You Will Be Doing As An Accountant/Analyst?
Financial Analysis: Conducting thorough analysis of financial data, including revenue, expenses, and trends, to provide valuable insights and recommendations for business decision-making.
Budgeting and Forecasting: Assisting in the preparation of budgets and financial forecasts, working closely with management to develop accurate projections and identify areas for cost optimization or revenue growth.
Financial Reporting: Preparing and presenting financial reports, statements, and analyses to stakeholders, ensuring compliance with accounting standards and providing clear and concise information for informed decision-making.
Auditing and Compliance: Supporting internal and external audits, ensuring adherence to regulatory requirements, identifying any financial irregularities or discrepancies, and implementing corrective measures as necessary.
Skills Required For Accountant/Analyst
Financial Accounting: Strong understanding of accounting principles, concepts, and practices, including knowledge of financial statements, general ledger, journal entries, and reconciliations.
Analytical Thinking: Ability to analyze complex financial data, identify patterns, and draw meaningful insights. Proficiency in using analytical tools and techniques to interpret and present data effectively.
Attention to Detail: Meticulousness in reviewing financial records, identifying errors or discrepancies, and ensuring accuracy in calculations and reports.
Problem Solving: Capacity to identify financial challenges or inefficiencies, propose innovative solutions, and make sound decisions based on analysis and critical thinking.
Financial Analysis: Proficiency in conducting financial analysis, including ratio analysis, trend analysis, and variance analysis, to evaluate performance, identify risks, and recommend improvements.
Increase your selection chances Apply jobs base on your Location Qualification & Experience CLICK HERE
HOW TO APPLY FOR SATTVA 2023 ?
To apply for the Sattva 2023 Off Campus Drive – interested candidates must follow the procedure outlined below:
Click on the "Apply here" button provided below. You will be redirected to  Sattva company official career page.
Click on "Apply Online".
If you have not registered before, create an account.
After registration, login and fill in the application form with all the necessary details.
Submit all relevant documents, if requested (e.g. resume, mark sheet, ID proof).
Provide accurate information in your application.
Verify that all the details entered are correct.
Submit the application process after verification.
INTERESTED CANDIDATES CAN APPLY THROUGH THE BELOW LINK
ROLE- Accountant/Analyst (Bangalore/Gurgaon/Mumbai)
Sattva – Frequently Asked Question ?
What is the Sattva selection process?
The selection process will be based on a Written test followed by Technical and HR interviews.
What is the average salary for the post?
The average salary is  4 Lpa – 8 Lpa for the this role.
Apply for all Government Jobs Across India CLICK HERE